Laurence Jaffe
About Producer Laurence Jaffe
---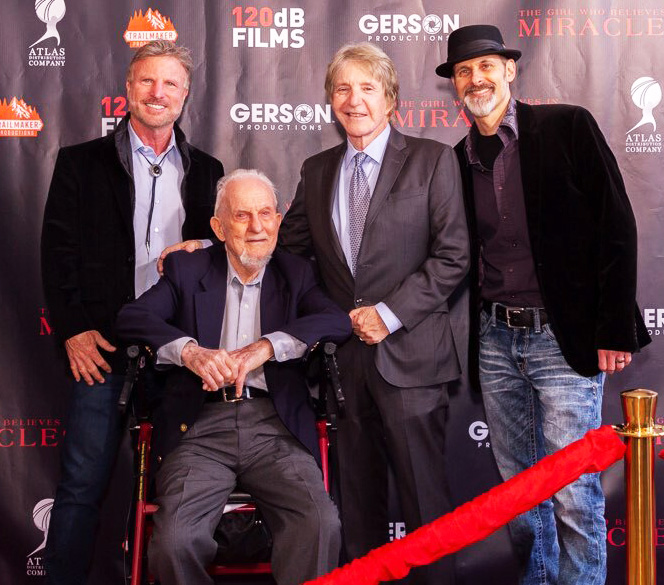 It's not surprising that first-time film producer Laurence "Larry" Jaffe chose a faith-based movie to make his debut. After all, he was born the year Cecil B. DeMille was filming his Bible story, THE TEN COMMANDMENTS.
But it is surprising that the version of the movie DeMille was shooting when Jaffe was born wasn't the Charlton Heston classic from 1956, but the legendary director's original silent epic -- from 1923.
"The joke on the set was that Moses and I went to Hebrew school together," the 98-year-old executive-producing rookie says with a laugh. "I may not be a spring chicken, but I am still clucking."
Bringing
The Girl Who Believes in Miracles
to the big screen was a dream first birthed for Jaffe when he and his three partners in Trailmaker Productions bought the Amazon best-selling book, THE MUSTARD SEED, on which the film is based. It was a definite career departure for Jaffe, who spent most of his working years in marketing research.
---
"I'm proud of what we've brought to life here. Encouraging people to deepen their faith, to believe in something greater than themselves, is truly a story for all ages. If it ends up being the only movie I make, I'll know I made an uplifting and important one."
- Producer, Laurence Jaffe
---
He earned his master's degree in marketing and statistics from Columbia University, and graduated magna cum laude from Dartmouth College. He also served in the Marines during World War II, where he was stationed in Nagasaki, Japan, the site where the second atomic bomb was dropped.
Jaffe's partners, who are about half his age, appreciate his experience and wisdom in helping the company take The Girl Who Believes in Miracles from page to screen. And Jaffe's hopes for his first feature film go beyond just box office numbers. He hopes to make enough money to underwrite a major initiative to help the poor through a program he created: Integrated Approach to Improve Health and Education in Disadvantaged Neighborhoods, which he wants to implement for his needy and deserving neighbors in East Gainesville, FL.
"My dream is to raise up the poor and close the gap in income disparity that threatens the social fabric of our democracy," he says. "That would truly be a miracle to me -- and for so many."
As for potential future filmmaking work, he says he's leaving that possibility up to the Maker of Miracles.
---
About The Girl Who Believes in Miracles
---
SUBSCRIBE
Sign up to receive news and updates.
---